When it comes to buying or selling a property in Israel, we all ask ourselves whether it is necessary to use the services of a real estate agent. Many people think they can conduct their search for a property alone, but end up turning to a real estate agent or agency anyway. Despite the regulations and limits imposed on real estate agents in Israel in recent years, these professionals often suffer from a negative image, unlike countries such as the United States or the UK. In this article, we will carefully examine the advantages and disadvantages of using professional real estate services, in order to help you make an informed decision about the best approach to purchasing real estate in Israel.
Roles and Services of Real Estate Agents in Israel
In Israel, unlike other countries, real estate agents hired by homeowners to sell their property receive a commission from both the buyer and the seller. This is usually about 0.5% to 2% of the property price, depending on the area and the sum of the transaction. This is significant in comparison to other countries where the real estate agent is usually paid by only one side of the transaction. This common practice in Israel can influence the dynamics of real estate transactions.
Another notable difference between Israeli and foreign real estate agents lies in the requirements for obtaining a real estate agent license. These are often stricter abroad, thus guaranteeing a high level of professionalism and competence among foreign real estate agents. This can influence customers' perception and trust in these professionals during real estate transactions.
It is important to note that, in Israel, anyone can (illegally) proclaim that they are a real estate agent and work in the field without a degree or license. It is therefore crucial to check if the real estate agent you are in contact with has a "Rishion Tivuch" (real estate agent license). It is not enough to take their word for granted; we highly recommend asking to see their registered agent card or license number, which you can easily check to confirm its validity.
This is an essential precaution that will ensure that you are working with a legally qualified professional, which guarantees a more secure and reliable real estate transaction. Ensuring that the real estate agent is duly licensed provides you with additional protection and allows you to benefit from the expertise and assistance of a competent professional in your journey of buying or selling real estate in Israel. It is important to emphasize that an unlicensed real estate agent is not legally entitled to a commission, even if he has performed the agent's work.
Expertise and Market Knowledge
A professional real estate agent has a deep knowledge of the local market, which can save you time and effort in your quest to buy or sell property.
Effective Negotiation
Thanks to their experience, real estate agents know how to negotiate with the involved parties so as to get the best price and conditions. However, it is important to be careful because if the real estate agent represents the seller, they will primarily protect the seller's interests. It is also common to come across agents who are only motivated by their commission and will not try to help lower prices. Therefore, it is essential to choose an agent who protects your personal interests and who will be committed to getting you the best deal.
Access to Information
Real estate agents have access to databases containing information on recent transactions in your area, which allows them to determine a realistic market price for your property. However, you can also research neighborhoods and sales yourself by visiting the following site.
Logistical Management
A real estate agent takes care of the practical aspects of the sale or purchase, such as organizing visits, managing offers and counter-offers, and coordinating the closing process (appointment with the lawyer).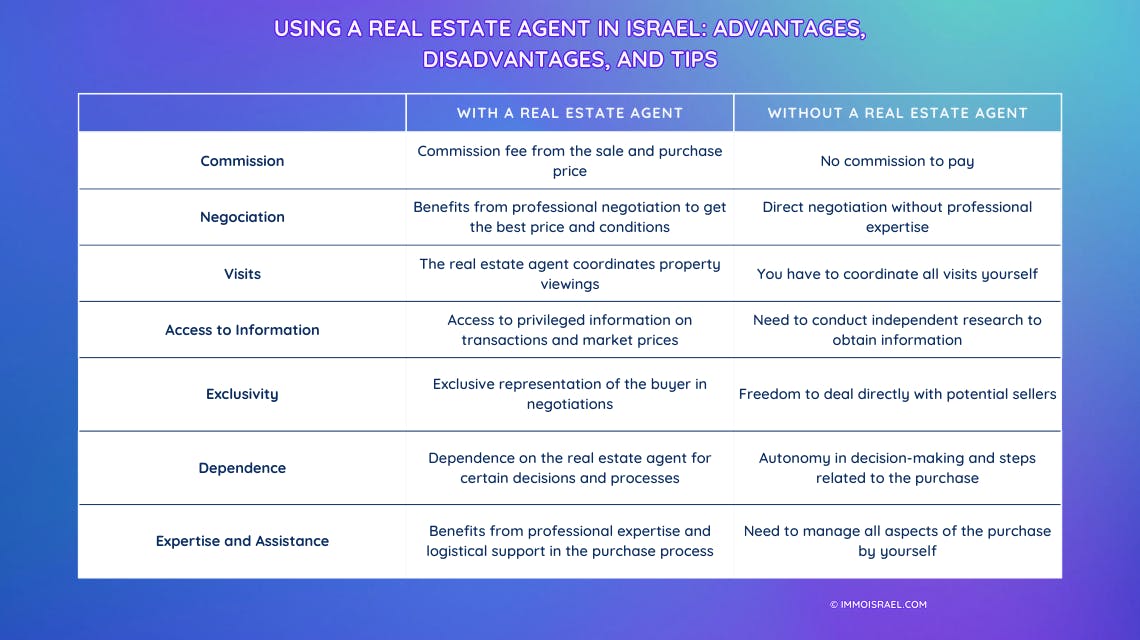 While it may seem tempting to do without and thus save money, using a real estate agent in Israel can offer many advantages. Their expertise, market knowledge, ability to negotiate, and logistical support can save you time, effort, and potentially achieve better financial results when buying or selling a property. However, we recommend choosing a reputable real estate agency and weighing the benefits against the costs before making a final decision.
On the Immo Israel real estate search platform you will find a wide selection of real estate listings in all of Israel, posted in various languages, and offered by individuals as well as experienced real estate agents. You can use our filters to view only listings posted by real estate agents, or only by private property owners. Feel free to explore your options and make an informed choice during your quest to buy or sell real estate in Israel.