Be'er-Sheva is the second largest city in Israel, after Jerusalem, in terms of area. It is the cheapest metropolis in Israel and has been developing enormously over the last decade. Ideal for investors, the Negev capital is relatively unknown to foreign citizens who have not witnessed its expansion and development in recent years. Learn more about how to make a smart investment in Be'er-Sheva according to your goals.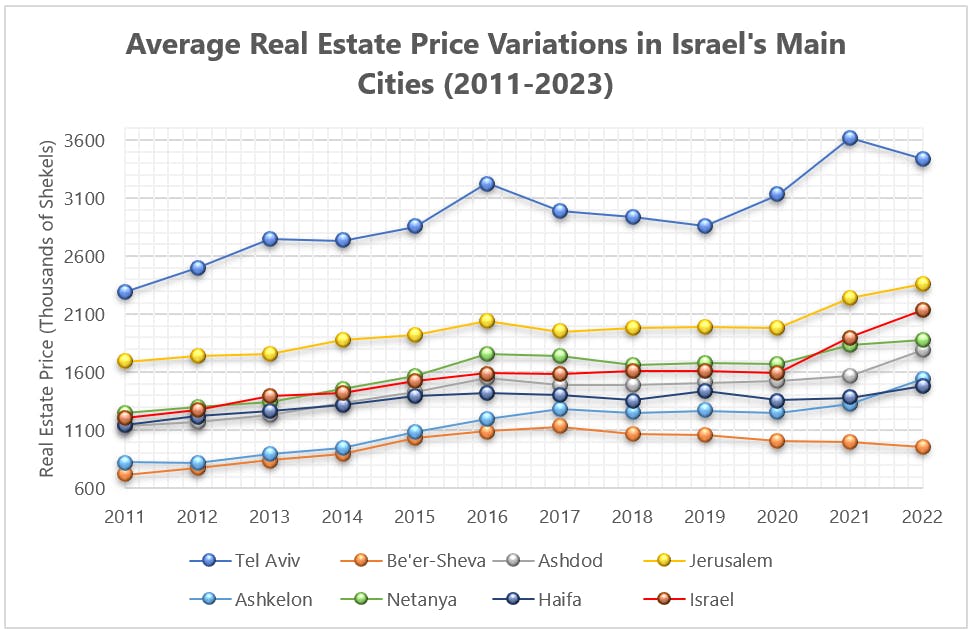 An Overview
Be'er-Sheva is composed of a core of older neighborhoods with newer neighborhoods all around, some of which are still under construction. Today, the city has a total of thirty neighborhoods and is continuing to grow at an extraordinary rate.
Be'er-Sheva is shaped the same way as Paris; a spiral. At its heart is the Old City, which has existed since the early 20th century under the siege of the Ottoman Empire. In 1948, upon the State of Israel's declaration of independence and the huge immigration wave, the city of Be'er-Sheva began to develop outside its original borders, an area which is known today as the Old City and where the main administrative centers are still located. The first neighborhoods to develop around the Old City were named with the Hebrew alphabetical letters Aleph, Bet, etc., while the more recent neighborhoods have different names. The city continued its expansion by adding neighborhoods at the edge of its borders, always keeping its characteristic rounded shape. These new, modern neighborhoods are ideal for families and young couples looking for a high-quality place to live at a reasonable price.
The Investors' Neighborhoods: Beth, Gimel and Dalet
These are the old neighborhoods located near Ben Gurion University, Soroka Hospital, and the new Gav-Yam Technology Center. The rental market is very dynamic because these neighborhoods are the most popular with students looking to live near the University. In fact, the city welcomes thousands of students every year from all over the country, all of whom must find housing solutions. This source of demand is inexhaustible and allows investors to rest easy with a secure source of income. Moreover, the average duration of a university degree is 3 years. A good quality property will therefore have a great chance of being rented for several years in a row and therefore, give the investor a passive income for several years.
All of these conditions make these neighborhoods ideal for investors: older and therefore lower-priced buildings, for an average of 800,000 ₪, with annual yields of 4% on average. The Bet neighborhood differs from the other two neighborhoods in that there are several recent towers and buildings, which significantly increase the average price of apartments. However, new buildings are now under construction in all the neighborhoods adjacent to Ben Gurion University. In recent years, these neighborhoods have also seen new and beautiful parks come to life, including the famous Park HaSofrim in the Bet neighborhood, and the Wingate Park in the Gimel neighborhood, both of which are highly frequented.
On average, more than 1,000 transactions take place in these three neighborhoods each year, representing one-third of all transactions in Be'er-Sheva.
The City's Bew Objective: The Renewal of Old Neighborhoods
After devoting time, funding, and energy to the construction of new neighborhoods in order to quickly meet the growing demand, the City Council is now planning to tackle the heart of the city and its renewal in order to intensify the city's dynamics. The City Council's Urban Renewal Corporation has developed a well-defined neighborhood plan of the various buildings eligible for urban renewal, as well as the various rights for residential, commercial and office construction, additions, and expansions. One of the main objectives is to make all amenities available within walking distance for residents, as well as to make these old neighborhoods more attractive.
In fact, the first neighborhoods that are supposed to undergo urban renewal are the Gimel and Old Town districts. The latter is undergoing an extraordinary transformation that will eventually attract a new form of tourism!
The Sure Thing: Neve Ze'Ev and Ramot
Combining old and new, Neve Ze'ev and Ramot are the two largest neighborhoods in Be'er-Sheva. Popular with families and young couples alike, properties here are a safe bet for investors due to the high demand. These neighborhoods have shops, schools, and large parks nearby, making them easy to reach on foot or by short car rides.
The average Real Estate price in Ramot is 1,590,000 ₪, compared to 300,000 ₪ less in Neve Ze'ev. Both have an annual yield of about 3%.
Investing in New Buildings: A Safe Choice
Many high-rise projects and other types of housing are being built in Be'er-Sheva. The average price of new housing is 12,500 ₪/m². Some projects near Ben Gurion University can offer up to 16-17,000 ₪/sqm.
Thus, for a new four-room apartment, prices start at 1,400,000 ₪. A new five-room apartment will also be able to be found from 1,450,000 ₪. The annual returns for investments in new properties are lower than in old properties by 3.5% on average. On the other hand, managing new property is simpler, as the tenants are mainly families or couples with children, and not students who tend to move every year. Thus, the lease renewals can be on a multi-year basis, in comparison to an older apartment.
The answer to the question "is it more profitable to buy a new property than a used one?" is rather complex. However, there are many advantages to buying a new property. First of all, many entrepreneurs offer targeted and lucrative sales promotions in order to sell as many apartments as possible, as quickly as possible, and thus reduce financing. For this reason, the introductory prices, including those for a new off-plan property, can often be more favorable than those of second-hand apartments.
Security matters may constitute another reason why it may be better to buy a new apartment in the area. In Israel, and also in Be'er-Sheva, many old buildings do not meet the safety standards in force today. The older apartments sold on the second-hand market are often characterized by heavy wear and tear, as well as outdated construction standards. In fact, the old buildings were built in the 1950-60s on pillars, most often than not without elevators, parking, balconies, and without Mamad rooms (secure, reinforced rooms). Buying property in old buildings means condemning oneself to inevitable internal and external renovation work. However, it may be more affordable for some, given the very low prices that can be found in the old neighborhoods of Be'er-Sheva. Each investor must therefore choose his preferences according to his objectives, needs, and financial capacity.
What Should You Choose?
It all depends on your personal needs, objectives, level of risk aversion, and your budget.
What is certain is that in order to invest well, it is important to follow the latest transactions around the targeted property. We recommend you compare the property you are interested into a similar property nearby, to learn about the evolution of the neighborhood, and to analyze the advantages and disadvantages of the building and the property. You should take under consideration any possible renovations you may need to do, as well as the property's orientation and natural lighting, nearby amenities, etc. There is a lot of data to consider, especially if you have no experience in the field of investment. That's why it's better to talk to a professional than to try your luck alone and risk losing time and money.
Are you interested in investing in Be'er-Sheva? Please visit our Search page and select the appropriate filters according to your needs.
FAQs
How much does renting an apartment in Be'er-Sheva cost?
The price of an average rental apartment in Be'er-Sheva in 2023 varies between 2,500 ₪ and 3,000 ₪, depending on the condition of the apartment (new/old), its location, and as well as the number of rooms.
Is investing in an apartment in Be'er-Sheva in 2023 worthwhile?
Yes, Be'er-Sheva is considered one of the most attractive cities in Israel for investors.
How much does a two-room apartment cost in Be'er-Sheva?
The current average price for a two-room apartment (not including new buildings) in Be'er-Sheva is 596,000 ₪. There are very few new two-room apartments, and most of them are in old buildings.
How much does a three-room apartment in Be'er-Sheva cost?
The current average price for a three-room apartment (not including new buildings) in Be'er-Sheva is 795,000 ₪, while the price for a new apartment is on average 1,348,000 ₪.
How much does a four-room apartment in Be'er-Sheva cost?
The current average price for a four-room apartment (not including new buildings) in Be'er-Sheva is 1,118,000 ₪, while the price for a new apartment is on average 1,403,000 ₪.
What is the annual rate of return for an investment in Be'er-Sheva?
The average annual return for a real estate investment in Be'er-Sheva ranges from 2.7% to 6.3%.
Where is it worthwhile to buy an apartment in Be'er-Sheva?
The city has many popular neighborhoods, including Neve Menahem, Neve Noy, Dalet, Neve Ze'ev, Tet, Ramot, and others. Each investor must consider the population he or she wishes to reach and his or her goals.
Who do I contact if I want to invest in Israel?
You can contact us regarding any type of investment, and we will be happy to assist you in your endeavors.